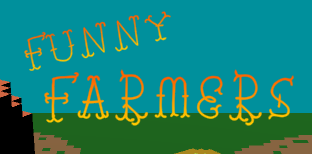 Funny Farmers
A downloadable game for Windows
As of right now, the only game mode the game has is local multiplayer. 2-4 people can play on a few different levels. It was developed and tested so far by using Playstation controllers (other types of controllers can be used, but the button inputs may be different). I also apologize as I have not incorporated any visual impairment or colorblindness assistance. This is definitely something I would like to implement in the future, but as of right now, a lot of the assets and distinguishing features are color-based.
In the game, each player controls a farmer with a different colored hat. The objective is to obtain seeds, plant the seeds, and then wait until the crops are fully grown, harvest the crops, and then take them back to your player-specific scoring zone.
You can carry up to five seeds at a time (and cycle through the one you want to plant next with the shoulder buttons), and can carry a total of three crops at a time in your basket (cannot plant seeds when carrying crops in your basket). Be careful though, the higher the point value of the crops in your basket, the slower you will move as you carry them. If the other players catch up, they can knock the crops out of your hands (crops knocked out of people's hands can be kicked into scoring zones for points). Oh! And you can get bonus points for harvesting and successfully scoring crops that other players have planted.
The point values are as follows:
1 point: Flower (white seed)
2 points: Tomato (red & green seed)
3 points: Corn (yellow & green seed)
4 points: Watermelon (green & pink seed)
5 points: Pumpkin (orange & black seed)
Controls (Playstation controller):
Other types of controllers can be used, but the inputs may be different from the intended button layout below.

Left analog stick - Moves character
X - Select/Plant seed/Harvest crop
O - Hits crops out of other farmer's hands
L1 & R1 - Cycles through seeds (Next seed to plant)
Known Bugs:
When selecting a level before game starts, you must hit X (confirm selection) twice for the game to register.
Download
Click download now to get access to the following files:
funny-farmers-win.zip
38 MB